I had an appointment today at the trauma clinic. Appointment was for 10.50, I was eventually seen at 12.40. From then it was pretty (or not) quick.
A nurse pull up my x-ray then a doctor assessed me, prescribed some more strong co-codamol and took down the other injuries that have become apparent then told me to make another appointment for three weeks time. While he was writing the prescription I took this photo: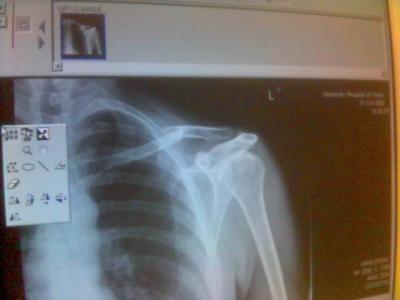 I'm so glad my phone has an "Airplane Mode" so I can use its non-communication functions in places that don't allow mobile phones 😉
Afterwards a nurse changed my sling and added some padding to reduce the chafing so I'm a little more comfortable now. Just got to see what happens in three weeks. Maybe some light physiotherapy, but a 10% chance I'll need surgery. Fingers crossed it doesn't come to that!