I bought this from the compensation following my cycling accident: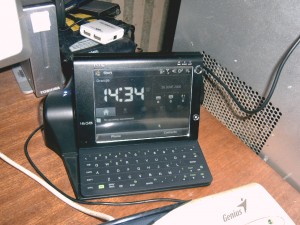 It's an HTC Advantage X7510, Pocket PC / Phone / GPS / Camera.
It arrived, following many delays, last Saturday and it's an absolutely amazing piece of kit. Pricey but I did say I was going to get the best available and that I did.
Seen here in a docking cradle and yes, that is a mouse pointer. It'll also read flash disks and output to a VGA / SVGA or Composite port.
It's quite large for a phone, but I have another for voice and I did get it for data usage only. It does fit in my work shirt pocket, complete with keyboard (magnetic clip-on) so it's just not too big as to be an inconvenience to carry. It also came with quite a few accessories.
A very worthwhile purchase, all-in-all 🙂